Mulled Wine (Hot Spiced Wine)
This mulled wine (hot spiced wine) is the perfect cocktail for the coldest winter nights. Since it makes enough for a small crowd, invite your friends over to enjoy a glass with you!
Mulled wine tastes just like Christmas. My first experience with hot spiced wine was 2 years ago at the Christkindl Market here in Chicago. It's a fun little market in the middle of the city modeled after a European market and sells Christmas-ware. They also sell Gluwein (ie. mulled wine), in a commemorative cup. On a cold night, it's just perfect.
What is Mulled Wine?
Mulled wine (also called Gluwhein or glogg) is a cocktail that is popular at European Christmas markets and dates back to the Roman Empire. It is usually made from some combination of red wine, cinnamon, anise, cloves, and sugar.
Why You'll Love this Recipe
Super simple to make at home with just a handful of ingredients.
A great cocktail option for a crowd – perfect for holiday parties!
Ingredients You'll Need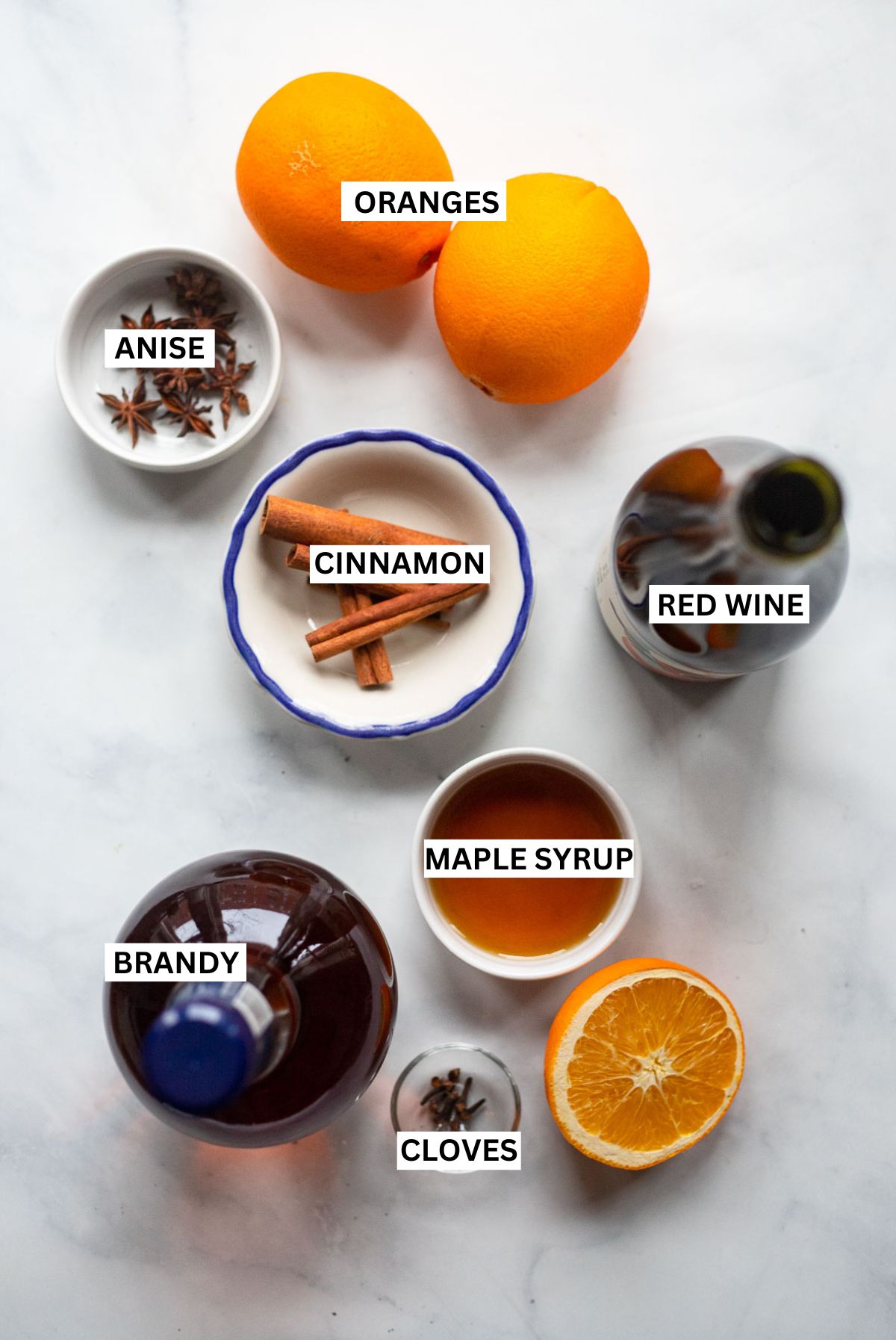 Red Wine: Use a dry red wine like Zinfandel, Merlot, Cabernet Sauvignon, Syrah, or Pinot Noir. You can also use a red wine blend. You want to avoid any sweet red wines as they become over-sweet after adding the rest of the ingredients for this cocktail.
Orange: Adds a nice citrus flavor as well as a little sweetness. Buy an extra orange so that you can add slices to the cup when serving.
Maple Syrup: Adds some sweetness and flavor that complements the spices in the mulled wine well.
Spices (Cinnamon, cloves, star anise): The combination of spices traditional used for mulled wine. Some recipes also call for cardamom. Use whole spices rather than ground.
Brandy: A classic combination with the spices and wine in this recipe. You'll want to stir the brandy in after the wine is hot.
Is Red Wine Vegan?
Not all red wine is vegan. Some wine producers use albumin from egg whites, casein from milk, or isinglass from fish as a fining agent to extract impurities from the wine before bottling. The fining agent is not in the bottle you take home but many vegans want to avoid animal based agents all the same.
You can look for a wine labelled "vegan" but that isn't always easy to find. You can also try looking for "unfined" on the label which means that the winery did not use the clarification process that often includes animal based agents.
Step by Step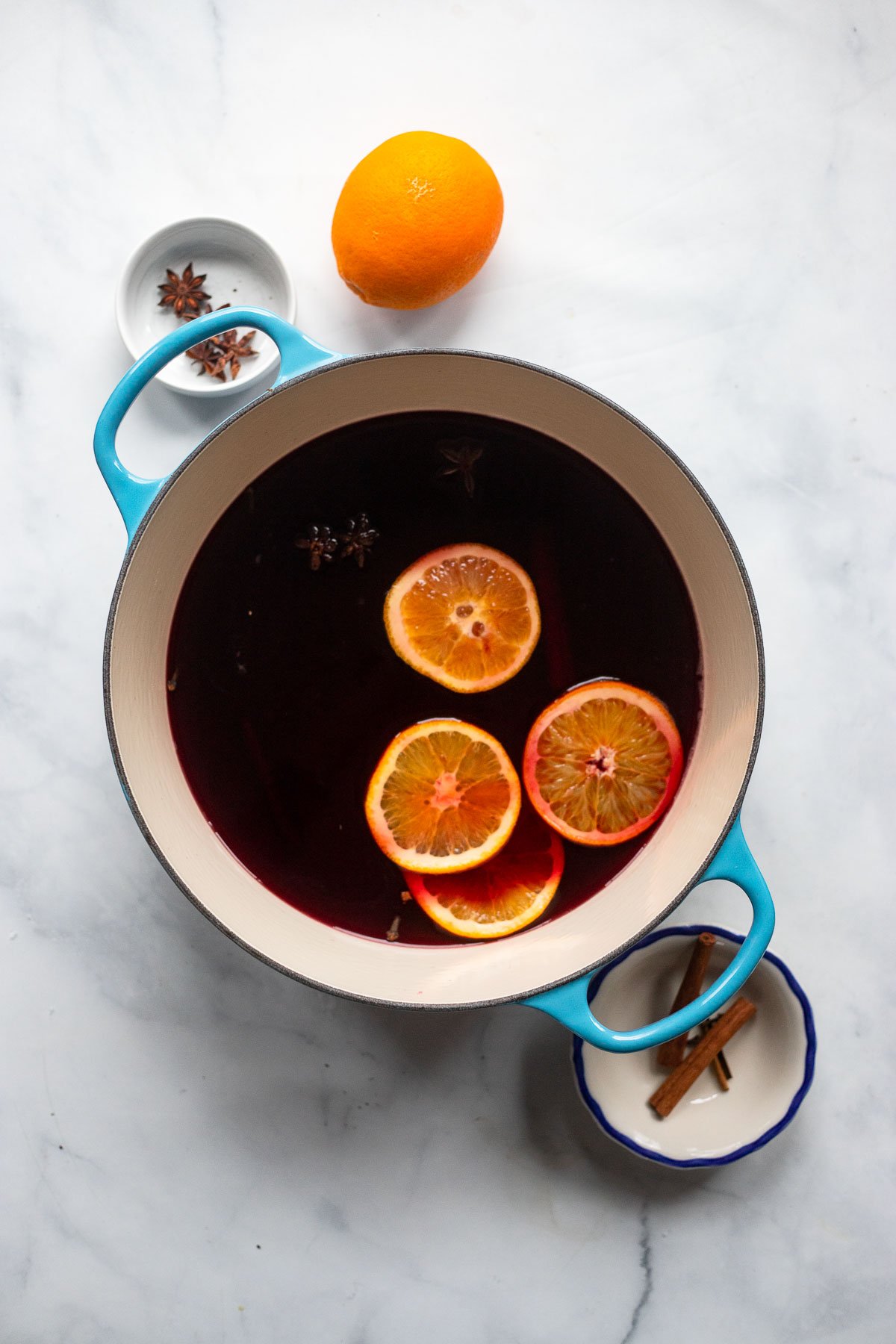 Step One: Add all of your ingredients except the brandy to a dutch oven on the stove top. (Use a small square of cheesecloth to contain the spices if you'd like. Just tie up with string and toss into the pot with the wine.) Heat on low for up to 30 minutes until wine is hot.
Step Two: Strain out the spices and orange and stir in the brandy.
Step Three: Ladle into mugs to serve and garnish with fresh orange slices and cinnamon sticks.
Expert Tips
Avoid boiling: you want to gently heat the wine and spices together on the stovetop rather than boil them. Boiling will cause the alcohol in the wine to evaporate and may cause it to become bitter.
Make it in a slow cooker: Add all of your mulled wine ingredients to a slow cooker/crockpot on warm setting. Once hot, you can change it to the "keep warm" setting.
Don't use too many spices and discard afterwards. It can be tempting to add more spices than what is called for in the recipe, but a little goes a long way! You want to use whole spices rather than ground.
Add brandy in at the end. The cooking step is to warm the wine up and infuse it with the flavors of the spices so no need to add the brandy until the end.
Recipe FAQs
Can I make an alcohol free mulled wine?
Yes! Instead of the red wine in the recipe, you can use red grape juice or pomegranate juice. (You'll need 3 1/4 cups total). I would recommend a combination of red grape (2 1/2 cups) and pomegranate juice (3/4 cup) for best results as the pomegranate will add some tartness and balance out the sweetness of the grape.
How long does mulled wine last?
Mulled wine can be stored in the fridge in a glass jar or pitcher for up to 3 days. (Remove spices before storing.) Simply reheat on the stove or in a crockpot.
Can mulled wine be reheated?
Yes, add mulled wine to a saucepan and reheat over low heat. You can also reheat on low in the crockpot.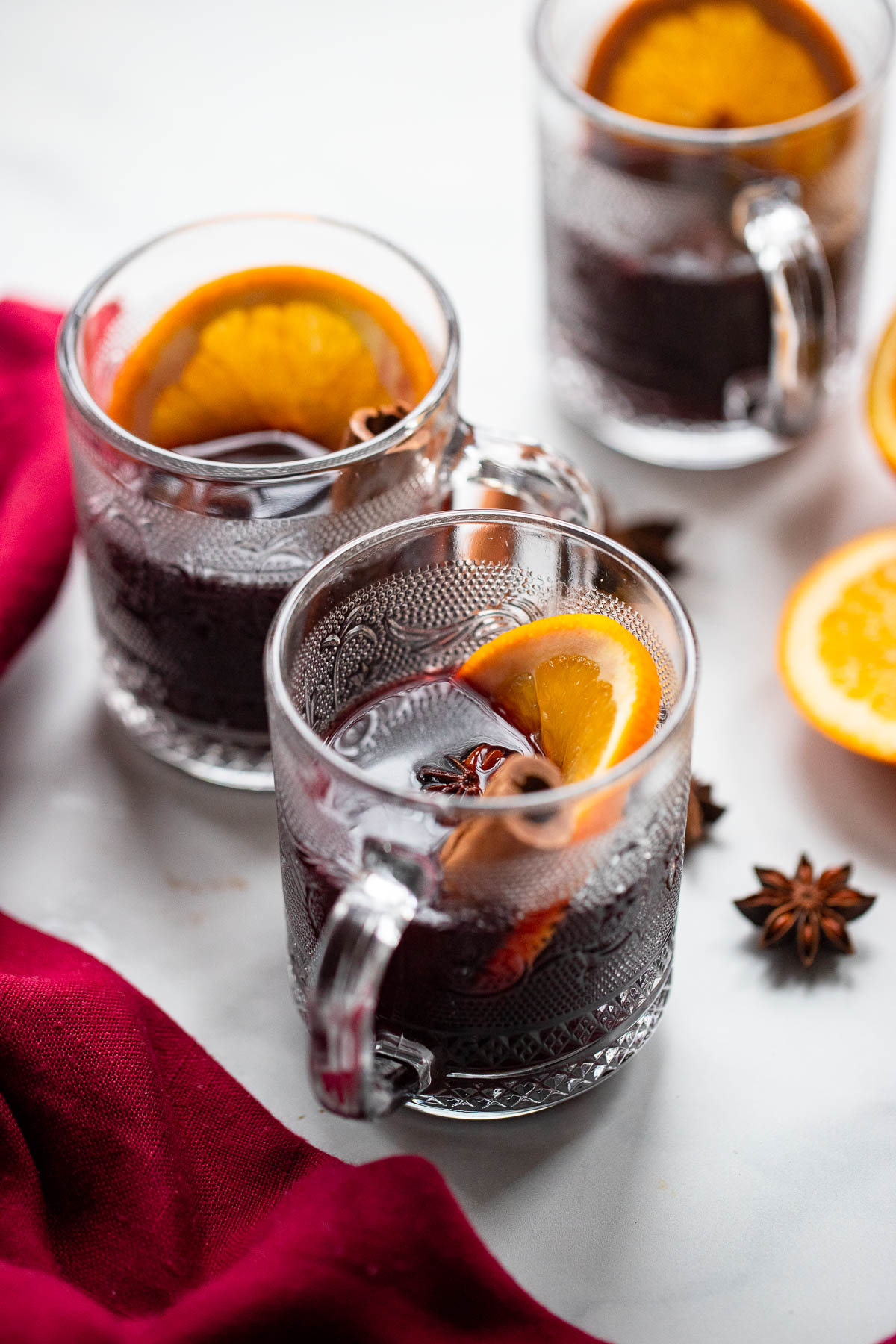 Red Wine Health Benefits
Red wine contains antioxidants called polyphenols. Diets that are high in antioxidants can be protective against chronic diseases like heart disease and cancer.
Resveratrol is a specific polyphenol in red wine that has been linked to lower risk of heart disease in some studies because it can reduce the risk of inflammation and blood clotting.
Mild-moderate alcohol consumption has been linked to positive health benefits like higher good (HDL) cholesterol and lower incidence of type 2 diabetes. (**If you don't currently drink, it's not recommended by healthcare providers that you start drinking for the potential healthy benefits as excess alcohol consumption can be harmful. But if you already enjoy the occasional glass of wine, it may have some benefits.)
Love this recipe? Make sure to leave a ⭐️ rating below and tag @dietitiandebbie on Instagram!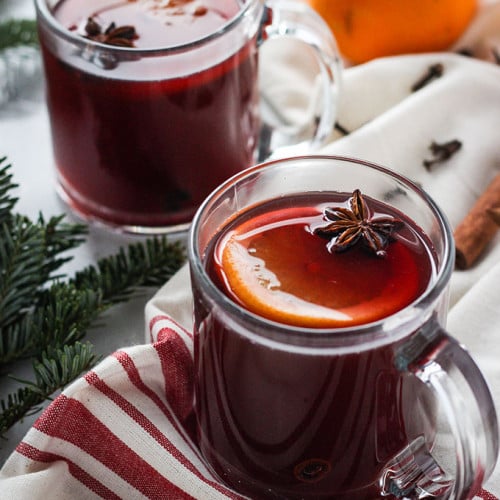 Hot Spiced Wine
This hot spiced wine is the perfect cocktail for the coldest winter nights. Since it makes enough for a small crowd, invite your friends over to enjoy a glass with you!
Prevent your screen from going dark
Instructions
Add wine, orange juice, orange slices, maple syrup, and spices (cinnamon, anise, and cloves) to a medium saucepan and turn heat on low.

Heat on very low for about 20-30 minutes or until fragrant. Do not simmer or boil.

Turn off the heat and remove orange slices and strain out the spices. Stir in the brandy.

Serve hot in glasses garnished with orange slices and cinnamon sticks.
Notes
Red wine suggestions: Use a dry red wine like Zinfandel, Merlot, Cabernet Sauvignon, Syrah, or Pinot Noir. You can also use a red wine blend.
Brandy alternative: You can also use bourbon in this recipe if you don't have brandy.
For a sweeter mulled wine: add 2 cups apple cider to the pot when cooking. We love making it with apple cider!
Spices: Spices can also be added to a bit of cheesecloth that has been tied up with string if you don't want to strain before serving. 
Crockpot: Add all of the ingredients from step one to a crockpot and heat on low for 1 hour until hot and then switch to "keep warm" setting until ready to serve. 
Nutrition
Serving: 1Drink | Calories: 260kcal | Carbohydrates: 25g | Protein: 1g | Fat: 1g | Saturated Fat: 1g | Polyunsaturated Fat: 1g | Monounsaturated Fat: 1g | Sodium: 13mg | Potassium: 375mg | Fiber: 2g | Sugar: 18g | Vitamin A: 57IU | Vitamin C: 12mg | Calcium: 50mg | Iron: 1mg
Reader Interactions